Treatment of Peyronie's Disease and Penile Curvatures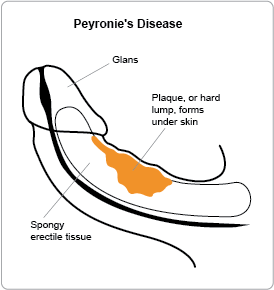 Men may develop a condition called Peyronie's disease manifested as a penile curvature, penile narrowing, a dent, penile shortening, a lump in the penis and pain with erection. Sometimes men are born with a curvature in the penis. There are several options for the treatment of Peyronie's disease. The choice depends on several factors including the severity and duration of the condition and its impact on sexual function.  In some mild cases, observation may be appropriate. In other more severe cases, medical treatment may be indicated consisting of a injection of a medication called Xiaflex into the penis. Other non-surgical treatments may include other medications and penile stretching. In severe cases non-responsive to medical treatments, a surgical procedure called "correction of penile curvature" may be indicated. Surgery is frequently successful in correcting the curvature. In men with both severe Peyronie's disease and ED, correction of penile curvature may successfully be combined with a penile implant. The surgery can frequently be done as an outpatient procedure in a surgi-center. The patient can resume sexual activity approximately 4 to 6 weeks after the surgery, depending on the healing process. The complications are relatively uncommon, including among other things, numbness in the penis, difficulty with orgasm/ejaculation and ED. In case of a combined surgery with a penile implant, complications may also include infection and implant malfunction. Multiple studies have shown high satisfaction in properly selected cases. Dr. Ridwan Shabsigh has long-term experience with correction of penile curvature and penile implant surgery. 
Men with Peyronie's disease or penile curvature who are interested in evaluation and treatment may inquire by contacting us at +1 212-249-6060 or by email to schedule an initial evaluation.